LHG Labour Connected Fringe Event: Housing as a Human Right?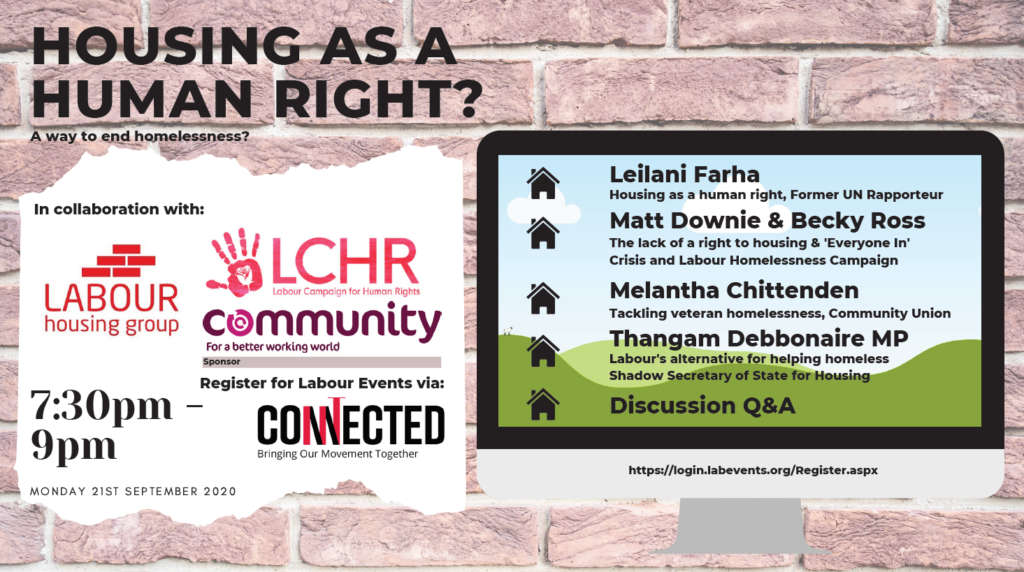 Housing as a human right – a way to end homelessness?
LHG's Fringe meeting at Connected 2020, the Labour Party's online Conference, is organised with the Labour Campaign for Human Rights, and sponsored by Community.
We are delighted to be able to hear from Leilani Farha, former UN Special Rapporteur. who has written about the right to housing in the pandemic, and from Crisis and LabourHomelessness Campaign, agencies working to help homeless people throughout the crisis. Melantha Chittenden from Community will talk about the union's campaign on tackling veteran homelessness, and Thangam Debbonaire, Shadow Secretary of State for Housing, will look at the Government's response to the needs of homeless people and what Labour would have done differently.
The meeting will take place on Monday 21st September 7.30pm – 9pm online through the Connected 2020 platform.
You will need to be registered to attend the virtual conference in order to come to LHG's meeting.
Step 1: Register for Labour Connected 2020
https://login.labevents.org/Register.aspx
Step 2: Put Monday 21st September 2020 7:30pm-9pm in your diary