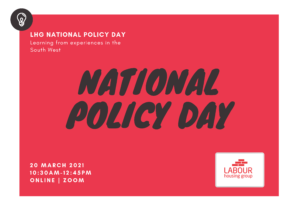 National Policy Day
Saturday 20th March 2021
10.30am-12.45pm
NOW AVAILABLE TO WATCH ON YOUTUBE
Learning from experiences in the South West
The South West of England with its beautiful beaches, lovely moorland, and pretty villages, has more than its fair share of housing challenges.
What can we learn from this region to help shape housing policy for all parts of the country, as well as for the region itself? What is being done now to address housing needs? Hear from politicians and housing experts from across the region.
Keynote speakers:
Marvin Rees, Mayor of Bristol
Cllr John Bloxsom, South West LP Regional Executive Committee
Thangam Debbonaire MP, Shadow Secretary of State for Housing
Workshops:
Tackling the scourge of 2nd homes
The shocking story of Housing Revenue Account deficits
Community-led housing development – one way to address housing need
The effect of income gaps on women's access to homes and on domestic abuse
Remedying and retrofitting poor quality housing in all sectors
Workshops leaders will include Labour Councillors and housing specialists from around the region.